On any online store, you always have a header and a footer, both enable the customer to navigate throughout the store. The header is at the top of the website and the footer at the bottom. Make sure to know that those sections will be present on every page of your website.
Header
The header is the main navigation part of your website, inside your header, you'll have a logo(1), a navigation menu(2), and general utilities for the customers (3).

Lots of customization is offered to you inside the header. Here is in article about it.

Menu
The most important aspect of your header is surely the menu, you want the people to be able to navigate throughout your store. With Booster Theme, you can customize it a lot! You are not limited to a basic menu, you can have a mega menu that displays pictures (1), and rich submenus that contain an icon, a title, and a description(2).


Step 1. Let's create a menu inside Shopify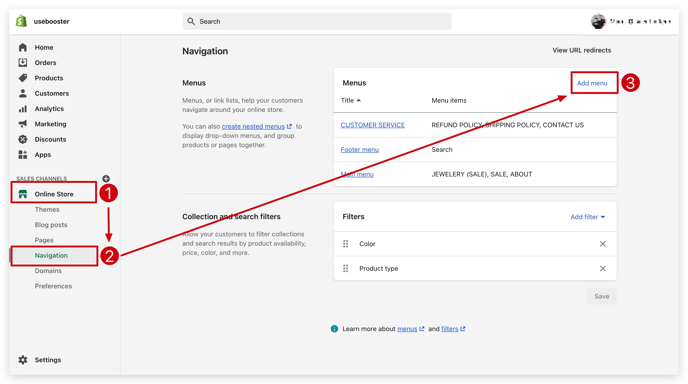 Step 2. Let's add some elements to it!
Megamenu instructions
In order to trigger the mega-menu layout, you'll need to add a submenu item that is a collection or a product with an image.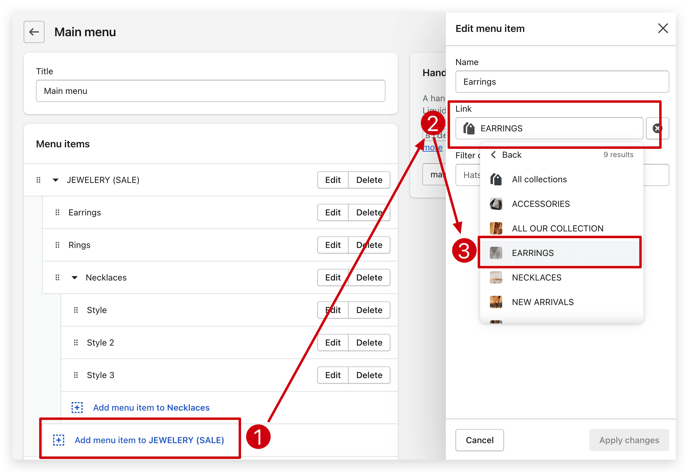 Also, you need to go in the Header and active the "Enable megamenu" Settings.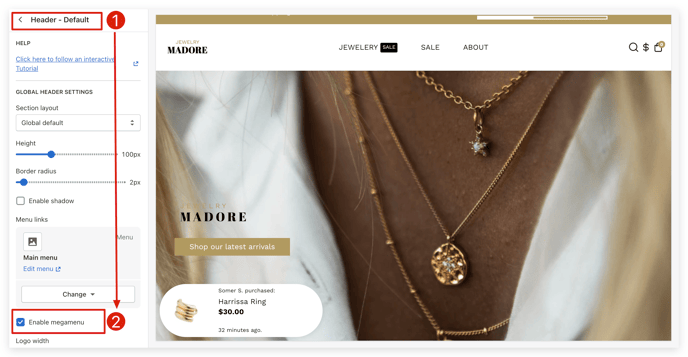 Rich submenu instructions
In the "About" item, you can see that it's different, this is a way do to it for the rich submenu features. The complete item is called: "desc: Learn more about our core values and the team behind Madore | icon: users-alt | text: Our commitment"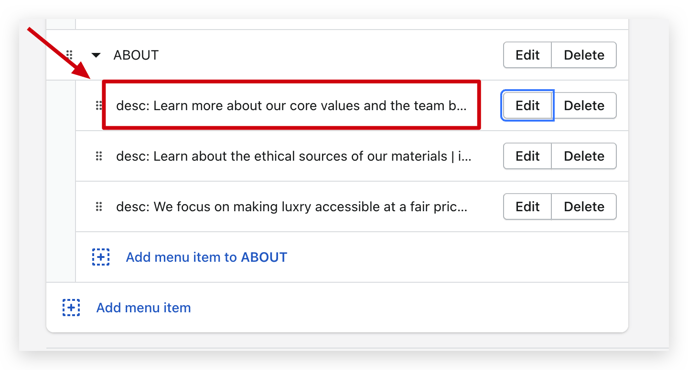 Here is the logic to follow to set up the rich submenu:
"icon:" You need to use the icons name from this library ( In the example : users-alt )
"text:" This is for the title
"desc:" (optional) This is the description
Note: You need to make sure to have a "|" between each element.
Step 3. Let's add it to the header now!

You know everything now about the menu! You can now use the megamenu and the rich submenu features easily. There is so much more to discover inside Booster Theme!
Top bar, Bottom Bar, Footer, Sub-footer
The top bar and Bottom bar are in the Header. Footer and Sub-footer are at the bottom of the page.
Those 4 sections are really important because they allow you to add secondary menus to your website and additional information for your users.
They are simple to use, simply add content blocks such as "text", "payment method", "newsletters", and more.

boostertheme.com/hc/en-us/articles/900001279183-How-to-setup-Top-bar-in-Booster-theme-
Need more explanation? Here are the articles for you: Top bar, Bottom bar, Footer, Sub-footer.