While building your online store with Booster Theme, you'll use three elements: Sections, Blocks, and Theme settings. Used together, those elements create infinite possibilities for you to create the online store of your dreams.
What are Sections & Blocks?
Sections are ways to show your content, each section has its own layout and features. With Booster Theme, you'll have over 25 different sections. With these, you can create a bunch of content and show them in different ways.
Blocks are the content elements that make up your website. The blocks are used inside the sections in order to fill them with content.
As you can see in this image, there are 4 collections blocks inside the List collections section. Blocks fill the section with content.

Adding Your First Section
First, let's start by adding the first section.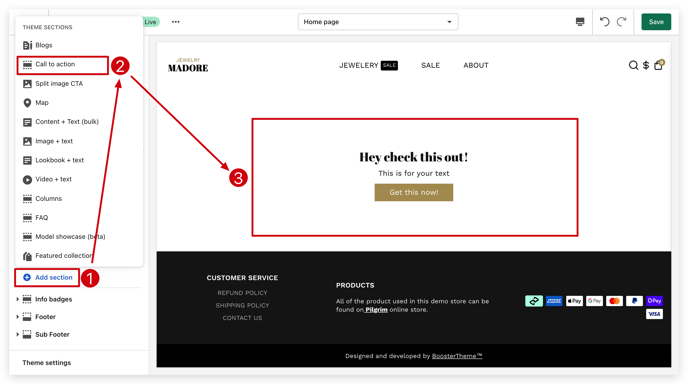 Adding Your First Block

Section and content blocks are essential to the creation of your online store, make sure to understand the logic behind them and you'll have access to infinite possibilities.
Section settings and block settings
Section settings and block settings are what you'll use to customize your content. You add your content in the settings and have the ability to customize it as you want. Simply click on the item in order to access its settings.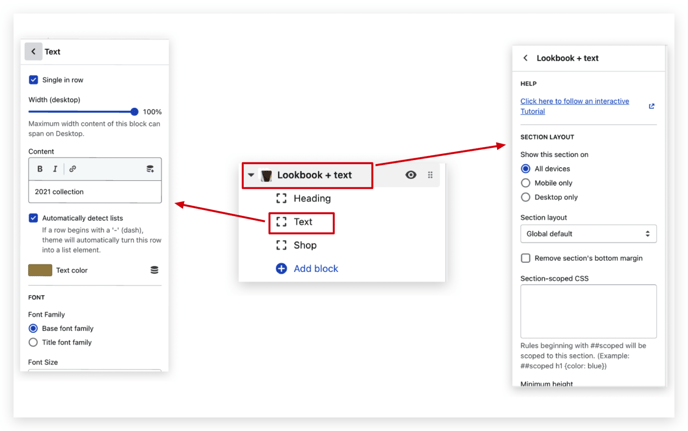 The most important theme settings
Theme settings will completely change the look and feel of your website, use them to brand your website properly and personalize the shop experience for your clients.
By following the list from #1 to #7, you will have set up the core elements of your store "Look & Feel".
If you need help, just click on the name of a setting, it will bring you to the article about that setting. The article has pictures and videos to help you understand what the setting is.
Jump-start Your Design With Demos
We created conversion-optimized demo stores for you, you can install them directly through the Booster Central app. Here is an article about this.
The demos are simply pre-set. Once you chose you can still edit everything, it simply helps you get started and overcome the blank page syndrome.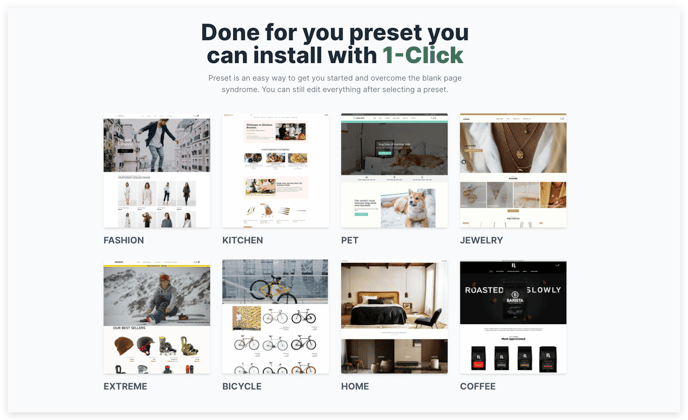 You got the basics, it's now time to complete your design!
By now, you have added sections and blocks to a page. You have adjusted their settings and begun customizing your design. You know the basics, but there is much more to learn. We have dozens of tutorials and videos on every aspect of the Booster theme. I encourage you to visit our main documentation page and read each one carefully.