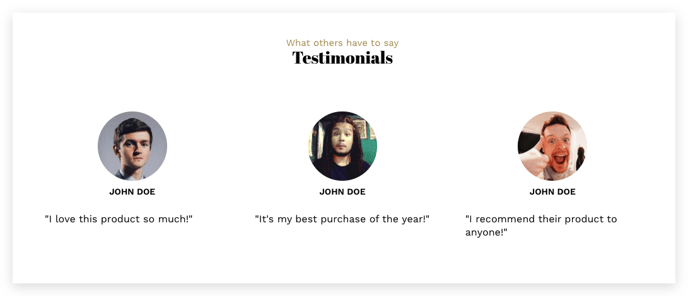 The testimonials act as proof of the genuineness of an online store. People visiting the site make it a point to check out the testimonials before making the purchase.
Our Booster Theme V5 has a separate section dedicated to setting up testimonials for your Shopify eCommerce store. Read on to know more about it.
Adding testimonial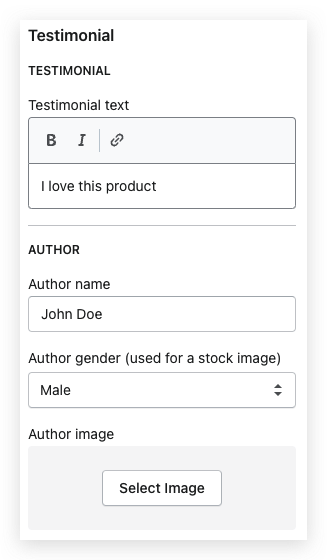 It includes the following features:
Name of the author: This place allows us the authors to write their names.
Gender of the author: It permits people to select the gender of the stock image that has been used.
Testimonial text: This setting allows us to compose the text for the testimonial.
Image of the author: This setting permits the author to select a photo for the testimonial, if available.
Testimonial design
A well-designed testimonial attracts more customers. You can choose either of the three designs available:

Author information inside

Author information below overlap the image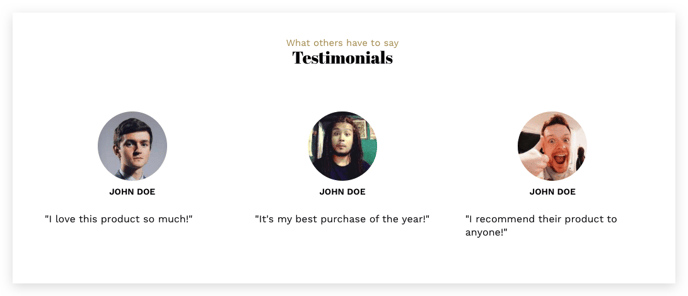 Add a Testimonial Background
Our theme allows you to edit the color of the background with this setting. It is a known fact that bright, vibrant hues tend to attract customer's attention. You can click on the color of your choice from the right-hand column and witness the changes.
Testimonial text
This option is available just below the "testimonial background" option. It modifies the color of the text. You need to click on a colored brick to the left of the option "Testimonial Text" and then click on the preferred color from the drop-down on the right.
Bottom Bar Style
This setting is only applicable if you use either of the two "Author Information below" options. It has two options:
Bottom Background color: It helps to modify the color of the background.
Bottom text color: It modifies the color of the text.
Author Information
If the author's image is not selected in the testimonial setting, the "Use a stock image" option present here will help you set up an image. Once this option is chosen, any stock image will be chosen for the testimonial at random.