The "recommended section" on a product's page is a highly popular section. By informing your clients about the many products you sell, you will raise your AOV significantly. Here is a whole guide on to setup this section properly on your Shopify Store.
This section allows you to create a section where you recommend products to your users.
To access the Recommended settings, click Customize (Themes section on Shopify) > click on Home Page with a drop arrow beside > Product pages > Sections > Recommended.
Recommended & Personalized offers
With the recommended section, you have 2 options:
The recommended option
With the recommended option enable you will be able to showcase a recommended collection.


The personalized offers option
With this option, you can use the Shopify AI your visitor behaviors on your store to showcase products that fit your visitor searches.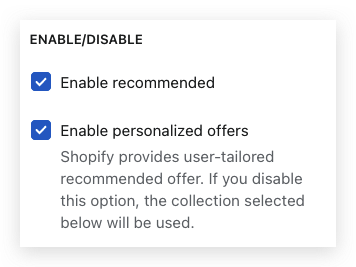 Page width
This setting modifies the width of the page, you can choose between boxed or full width.
Section heading
This setting modifies the heading of the page.
Section subheading
This setting modifies the subheading of the page.
Subheading position
There are two possible positions for your subheading, under or above your heading.
Text alignment (left to right)
This setting will modify the alignment of your text. You can choose between 3 options: Left(1), Center(2), Right(3)
Recommended collection
This setting allows you to select the collection you want to recommend in your section if you choose the standard recommended section instead of the personalized offers.