Payments icons are really important for online buyers, they wish to know how they will be able to buy from your store. Having the payments method shown on your footer is also mandatory for some advertisers like Google and Pinterest.
Add Payment Icons block to your footer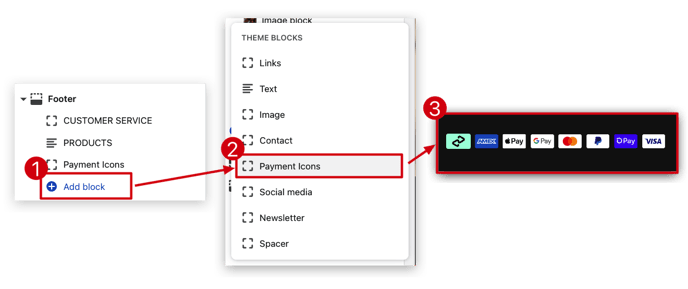 Payment Icon settings
Title
You can always modify the title of the content block for whatever you want.

Custom list
Payments methods are normally detected automatically, but if you want to customize yours, you can by enabling the custom list. With the help of the custom list, you can add many various icons to your block.

Availaible icons: afterpay, american_express, apple_pay, bitcoin, dankort, diners_club, discover, dogecoin, dwolla, forbrugsforeningen, google_pay, ideal, jcb, klarna, klarna-pay-later, litecoin, maestro, master, paypal, shopify_pay, sofort, visa.