With these details displayed on your site, you will be able to convert online visitors into offline customers easily. If you wish to engage your visitors with your brand, you can add links to your social media accounts as well. The setting to change Location, Contact, and Social Media is provided in the customize section. It allows you to set or modify your store's information and add the brand's social media links as well. You can conveniently access the setting from the backend of your Shopify Store.
To access the Location, Contact, Social media settings, click Customize (Themes section on Shopify) > click on Theme settings > Location, Contact, Social media.
Store Information
You can add or change your store's address through this option. It helps to let the consumers know that you have an offline store as well. In the location field provided by our Booster Theme, you can add a proper address for the convenience of your consumers.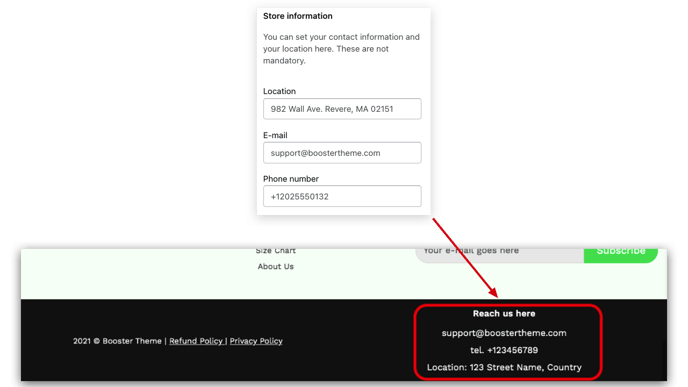 Social Media
By providing links to your social media accounts on your online store, the visitors can easily reach out to you and follow you on social media. This way they will stay up-to-date with your latest collections. By sharing all your available products on different social media channels, you can easily boost your conversion rate. We also offer a chance to store users for promoting their social media profiles and establish a name for the brand.
Those are all the social medias link we offer:
Facebook, Instagram, Twitter, WhatsApp, WeChat, Youtube, Snapchat, Viber, Pinterest, VK, DeviantArt, TikTok, Twitch, LinkedIn.