How to Setup Sidebar & Filters in Collection Pages - Booster V5 from BoosterTheme on Vimeo.
Customers generally wish to filter products by price or size, or sometimes even by customer reviews. The sidebar section allows the creation of a menu where the filter option can be availed.
Hence, sidebars and filters boost the conversion rates. In this context, let's learn how to set up sidebars and filters in Booster Theme V5.
Enabling the Sidebar
In order to enable the Sidebar on your collection page. Go to your Collection Page --> Sidebar & Filters --> Enable sidebar
Sidebar and filter section
Content
This setting allows content to be added to the menu. Six different types of content blocks are available.
All of those filters will help the customers to either find their product easily. Also, you can add Images and Text block to add some content to your collection pages.
Collection list
The most important filter is this one, with the help of this block you can showcase which collection the customer is viewing right now and also display all the other collections availaible.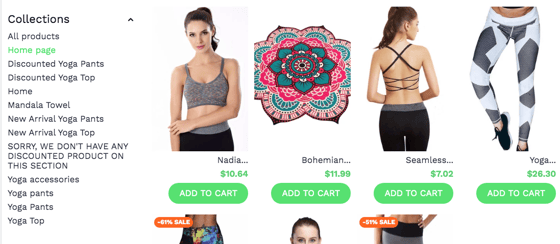 Type list
This block shows the different types of products that are available in the store. It can be really helpful if you have a vast inventory with lots of different types of products, it's amazing for fashion brands.
Brand list
Shoppers are generally brand conscious people. The brand list prepares a list of the brands available in the online shopping store, it can be really nice if you are selling multiples brands on your store.
Filter group
A filter group is a block that helps in preparing a list of the various types of tags put on the different products on the ecommerce site.
The best way to use that feature is to add tags to some products and list them there, this way you can make a custom filter list.
Image & Text
Those two blocks will be the same on all your collection pages, we recommend using those only for general brand information or something that would be relevant on every collections.