Reviews are acting as social proof to the eyes of your customers.
Social proof is a psychological and social phenomenon, where people are constantly looking for the approbation of the other before making a decision or taking an action. This may seem unimportant on your product page with the "add to cart" button, but in fact, the social proof is affecting people even if they are alone browsing on your Shopify Store.
A great way to influence their behavior is with the help of the reviews while making sure they are socially influenced to buy a certain product, first, you need to make sure that the products have good reviews, and make sure you have a good amount of reviews.
While adding social proof to your online store, you are also creating a way for your customers to rate your products. This is essential in order to create a relation between you and your customers.
Step 1. Download the Shopify Reviews app
In order to start using the Shopify Reviews app, you'll first need to download it.
Here is the link to install the app on your Shopify store: https://apps.shopify.com/product-reviews

Step 2. Agree to install the app on your Shopify
After adding the app to your Shopify, you'll need to confirm the installation and agree to the terms of use.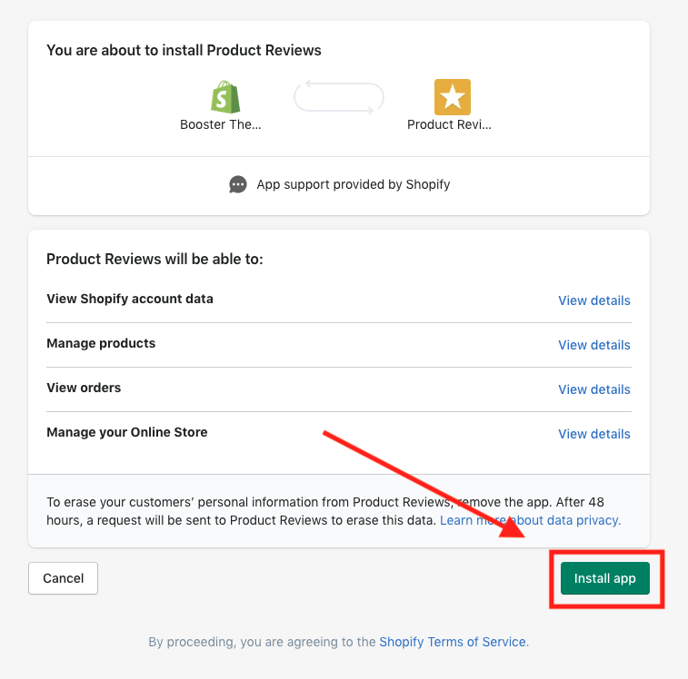 Step 3. Click on view installation instructions
The app is now installed but we need to install the review code snippet in the theme files.
In order to access those instructions click on "view installation instructions".

Step 4. Copy the snippet to your clipboard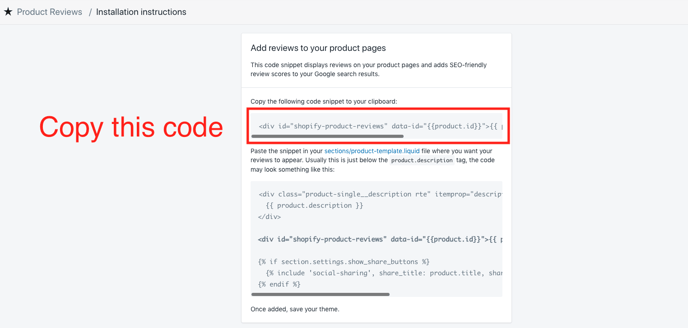 Step 5. Paste the snippet in the "product.liquid" template code
To access the file where you need to paste the snippet:
Click on Online store --> Themes --> Actions --> Edit code --> Templates --> Product.liquid
After getting in the file, paste the snippet between the and .

Step 6. Change the Review App in your Theme Settings
Everything on the coding side is now done!
It's time to go back into the theme and select the proper review apps in our theme settings!
Online Store --> Customize --> Theme settings --> Reviews --> Shopify reviews.