Swatches are used to allow you to sell multiple variants of a product. In this section, you'll be able to optimize your swatches and images gallery.
To access the Gallery & Swatches Settings, click Customize (Themes section on Shopify) > Theme settings > Gallery & Swatches
Gallery

Show selected variant's image will make the main image change according to the variant selected.

Default variant selector
Dropdown & Swatches are the two options.

Alternative selector options
Let's say you want your color to remain swatches but would like to have the size as a dropdown, you simply enter the name of your size variant and it will do the opposite of the default variant selector.

Swatch logic
Within Booster Theme, there are 2 different swatches logic you can select. Amazon and Aliexpress.
Amazon: Amazon swatch logic allows you to select variants that are not greyed out, which means they are unavailable currently.
Aliexpress: Aliexpress is simply the reverse, you can't select unavailable variants.
Preselect swatch will allow you to customize the variant experience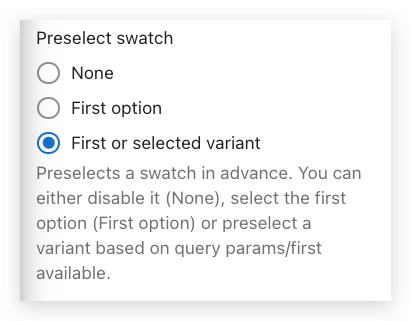 None will leave the variant unselected.
The first option will always select the first variant.
The First or selected variant will always select the first variant of all options.
Colors
The first option - Word swatches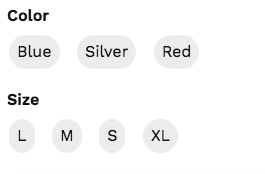 In order to do that simply remove any word in the " Color option names " settings

The second option - Custom Color swatches
With this feature, you can set a custom color to your swatches using the HEX color codes.
Let's say you want your red to be a certain tone you'll have to put in the "Custom color codes" field:
red: #EF0000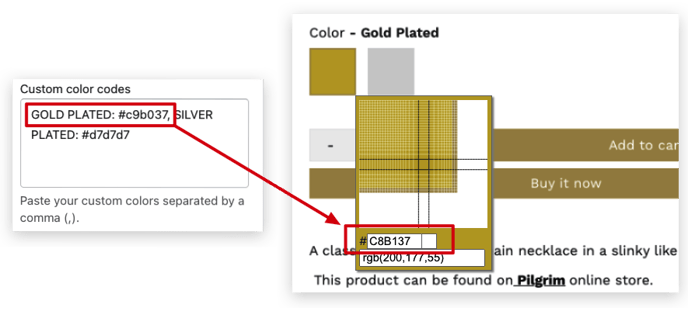 The third option - Images swatches
In order to activate the swatches with an image of the product, simply add an image in Shopify to your variant and add the name of your variant in the Image option names field.